New Media - Video
As Internet bandwidths broaden, user expectations for content are rising: While informational copy and pictures were once enough, it now takes "moving pictures" to boost interest among users. Consequently, in the future, we might be hearing a slight modification of a familiar saying: "A video is worth a thousand pictures."
» See the selection of sample videos (in German)
PowerPoint video presentations
You can use our "PPT2Web" browser-based player, which was developed specifically for presentations, to present your product demos, press conferences or corporate profile online in an ideal format. To make this possible, we record your presentation/event with the aid of professional video equipment, synchronize the resulting video with the PowerPoint presentation you held and then make the results available to your target group in our compact "PPT2Web" player. The player's look & feel can be fully adapted for seamless integration into your website's design.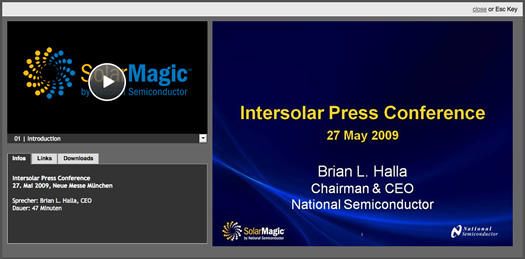 » Open the demo version of this "PowerPoint video presentation"
More examples
» Preview of a seminar series of MicroConsult (German)
Some exemplary videos produced by MEXPERTS
Here you can see some exemplary videos produced by MEXPERTS. You are thinking of a similar production or you would like to break new grounds in the area of "moving pictures"? Please just contact us (of course without obligation for you).
Featured Video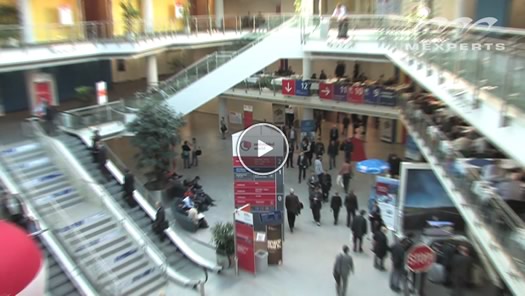 This was "our" embedded world 2011
Mexpert's video team spent two days roaming the world's biggest embedded show, the embedded world 2011 in Nuremberg. We have summarized several impressions from the exhibition - some of them in a tongue in cheek way. Enjoy! (Sorry, in German only!)
More Videos
Interview with Dr. Trier,
CEO Softing AG (Sorry, in German only!)

Customer: Softing AG
Lantiq "All Hands Meeting". Worldwide company internal distribution to support the local "All Hands Meetings".

Note: Audio was muted in this video example.

Customer: Lantiq
Within the framework of a collaborative project, MEXPERTS produced interviews that were filmed in Munich for the editors of ELEKTRONIKPRAXIS ("ELEKTRONIKPRAXIS TV").
Legal Notice
|
Privacy
|
Disclaimer